Pay at table powered by QR codes
Bring the speed and simplicity of QR code payments to your restaurant. Millions of guests and tens of thousands of restaurant staff rely on and love Up 'n go for a frictionless checkout experience that's as easy as scan-pay-go. Guests scan a QR code that's automatically printed at the bottom of guest checks to quickly settle-up at the table. The benefits of QR code payments in your restaurant are numerous.
QR codes can be printed on guest checks or placed at the table. You can also use Up 'n go QR codes curbside, at the counter, drive-thru — or even off-site for call-in to-go orders, using our patented Text-the-check™ feature.
Direct POS API integrations with NCR Aloha, Oracle Micros Simphony, Micros RES 3700, Lavu iPhone/iPad POS, and Toast POS. No Omnivore needed.
How It Works
QR code payments as easy as 1-2-3
Servers print and drop the check with QR code
Once Up 'n go is activated on your Aloha or Micros POS, QR codes will automatically print at the bottom of checks. Servers leave them at the table as usual. Guests decide whether to pay with the server or Up 'n go.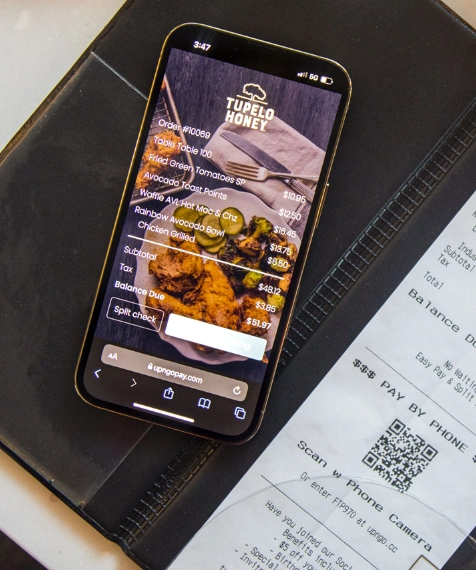 Guests scan the QR code, pay, and go —no app needed!
To pay with Up 'n go, guests simply use their smartphones to scan a QR code on the check, pay as they wish, and leave.
Apple Pay is the most popular payment method on Up 'n go, but Google Pay, Venmo, PayPal, credit cards, and gift cards are also accepted.
Servers see pay at table confirmation in POS
A receipt will print at your Aloha or Micros terminal as soon as guests pay, and the payment will display on the check view in your terminals.
Payments are processed by your existing processor and deposited in your bank account in the same batches you're already receiving from your processor.

Key Features
The most capable QR code pay at table solution
Accept Apple Pay & other digital wallets

Split the check

Gift card acceptance

Sophisticated control panel

Easy-to-use payment flow

Optional
contactless payment fees
Learn more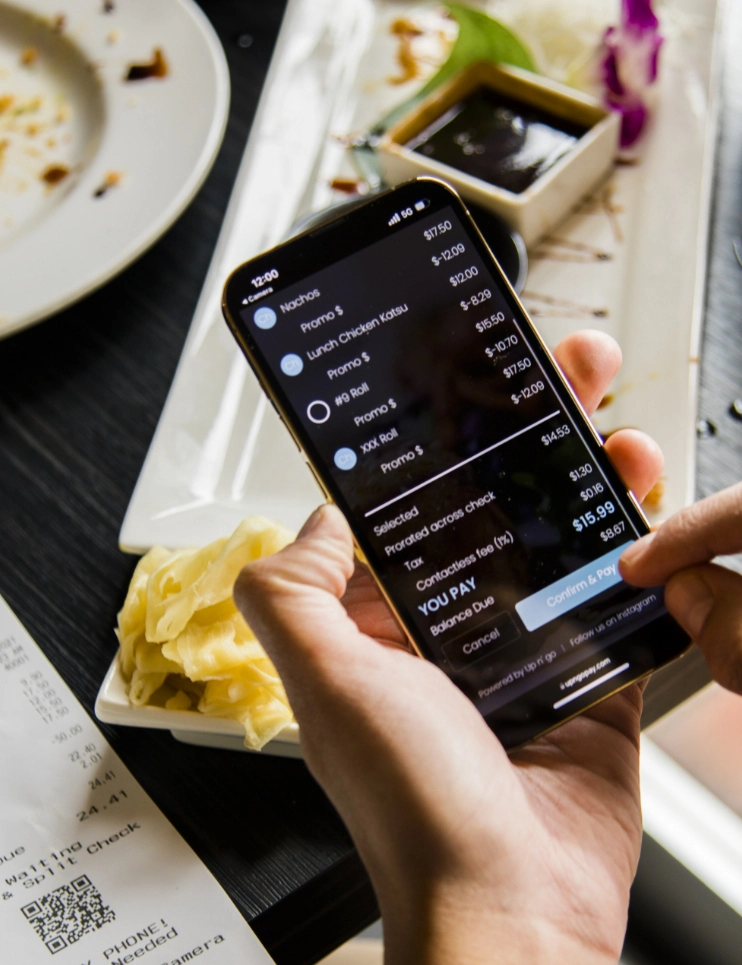 Use Cases
QR code payments let guests pay from anywhere
Pay at the table

The #1 way to collect payment at the table. Simply drop the check, which will automatically have our QR codes printed on the bottom. Guests of all ages can scan the code with no app needed and pay in 10 seconds.

Text the check™

Add a mobile phone number to a check in your POS and we'll text a payment link for that check to the number. Use this to collect payment for order-ahead and to-go orders. If servers are using ordering tablets, they can text guests the check right from the table.

Curbside QR code pay

Eliminate that extra trip inside to run a card. Servers bring the printed check with a QR code to the car and your guests can pay on the spot and get payment confirmation on their phones.

Pay at the counter

If you're a quick-service or fast-casual restaurant, guests can scan a QR code dedicated to each terminal to view and pay the check.

QR codes at the drive-thru

Display a QR code on your ordering screen, at the pick-up window, or anywhere else along the way, even on ordering tablets. Guests can use their idle time in line to pay, increasing your speed of service.

Staff also can enter guests' phone numbers on ordering tablets used for line-busting to text them the check.
Benefits
Restaurants love pay at the table from

Up 'n go
QR code-based pay at the table will help you turn tables quicker to sell more food and drink, enhance your guest experience, and some unexpected benefits, too.
Most importantly, Up 'n go enhances the guest experience, which makes them much more likely to come back—67% more likely, according to exit surveys. That's because nearly 100% of surveyed guests said they loved the Up 'n go payment experience.
Another reason paying with Up 'n go is time saved. Guests leave 10 to 20 minutes sooner when they pay with Up 'n go, which is convenient for them and more profitable for your business and your staff.
When tables turn quicker, it's like having 30% more capacity in your restaurant. And with

Up 'n go

, your staff is equipped to handle the increased volume, so they can spend their time selling more food and drinks—earning you more sales and them more tips.
Using

Up 'n go

also reduces germ-spreading high-touch payment collections that could cause an outbreak and potentially close your restaurant. Keeping people healthy and safe is good for everyone.
We're here and ready to help. Reach out to our team with any questions or comments.